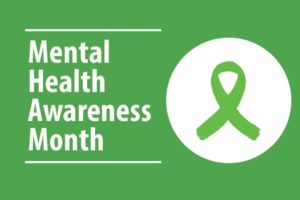 Every May, in the United States, Mental Health Awareness Month is recognized. Read below for more information and resources.
In the United States, May is recognized as Mental Health Awareness Month. Mental Health Awareness Month started in 1949 by Mental Health America (formerly known as the National Association for Mental Health). Mental Health Month is celebrated each year by organizations such as Mental Health America (MHA), the National Alliance on Mental Illness (NAMI), federal, state, and local governments, and numerous other community organizations as they continue the fight to erase the stigma that surrounds mental illness.
The purpose of Mental Health Awareness Month is to raise awareness and educate the public about mental illness, the problems faced by those living with these conditions, strategies for increasing mental health and wellness, and reducing the stigma associated with these conditions. Often these organizations will highlight a theme for the month. This year MHA recognizes the theme "Back to Basics." NAMI will recognize the theme is "Together for Mental Health."
The past two years, the COVID-19 global pandemic has led to increasing struggles for many when it comes to mental illness and substance use. People are continuing to be affected by the mental strain that is being caused by the pressures brought upon by the pandemic leading to anxiety, isolation, depression, and grief amongst many other issues.
Below are some statistics about mental illness that demonstrate it's prevalence and the struggles that are faced due to mental illness. The statistics shown are representative of the United States unless otherwise stated. (NAMI).
1 in 5 adults in the US experience mental illness each year
50% of lifetime prevalence of mental illness begins before the age of 14, 75% begins by age 24
Suicide, many times related to mental illness, is the second leading cause of death amongst individuals ages 10-34
Only 46.2% of those with diagnosed mental illness received treatment in 2020
The average delay between onset of illness and onset of treatment is 11 years
55% of counties in the U.S. do not have a single practicing psychiatrist
Approximately 8.4 million people provide care for an adult with mental illness and average 32 hours a week doing so
1 in 8 emergency department visits are for mental illness or substance use disorder related symptoms
An estimated $193.2 billion is lost in yearly earnings in the U.S. due to severe mental illness, $1 trillion is estimated in lost productivity due to depression and anxiety worldwide
Signs to Recognize You or someone you know may be struggling with mental illness if you experience or observe the following:
Feeling sad or withdrawn for more than 2 weeks
Having thoughts of harming or killing yourself or others or are making plans to do so
Severe or out of control risk taking behaviors
Sudden, overwhelming fear for no perceived reason
Significant weight loss or gain
Seeing, hearing, or believing things that are not real
Excessive or increased alcohol or drug use
Drastic changes in mood, behavior, personality, or sleeping patterns
Difficulty concentrating or sitting still
Intense worry or fear that disrupts daily activity
These symptoms are not inclusive of all symptoms of mental illness. Mental illness is not the only reason these symptoms may occur. Should you or someone you know exhibits these symptoms please seek appropriate professional help to determine if further treatment is needed. (NAMI).
Where to Seek Help If you or someone you know is in a crisis or it is an emergency please call 911 or a local crisis hotline. For more information or to find resources for mental health assessment and treatment please try the following:
Substance Abuse and Mental Health Services Administration (SAMHSA) Treatment Locator 1-800-662-4357 or visit www.findtreatment.sahmsa.gov/locator
NAMI Helpline 1-800-950-NAMI (6264)
Suicide Prevention Lifeline 1-800-273-TALK (8255)
Crisis Text Line, text "HOME" to 741-741
World Federation for Mental Health, visit www.wfmh.global
Call 211, if available locally
For more resources about Mental Health Month and information about how you can help spread awareness and stop the stigma please visit MHA and NAMI.
Chris Dorian, Licensed Clinical Alcohol and Drug Counselor and Founder of Know Your Why Recovery