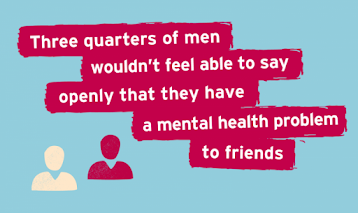 This entry was shared with us by Matt G over at Thee Adventures of Matt. Matt wrote this for his blog and shared it with us to feature on Know Your Why. In this post Matt starts the conversation about men's mental health. We hope our readers can keep it going!
Matt is a content creator, mental health advocate, and media contributor with a passion for defeating stigma. Stayed tuned for more collabortations with Matt and KYW, including a live Q&A in a few weeks. Read more below!
Hey Y'all welcome back over here to my blog, Today i wanted to talk about something that i feel is very important and quite frankly should be addressed more often, by the title you probably guessed it but that topic is men's mental health. But more specifically i wanted to talk about how there is such a negative stigma attached to Men Speaking out about their suffering. 
One of the most common reasons I have faced as well as heard many other Men say is the statement that we should not speak up about our problems because of the fact that we are supposed to be the tough, strong ones, so whatever we may be going through is nothing compared to the issues others are facing. For this I feel that it leads to us as Men not being taken as seriously as everyone else when we do speak about our issues, and this is one thing that I want to change and why I speak about my own story so much.
This is exactly the reason that I decided I would make this blog as well as all of my other social media accounts. So i could share my story, talking about men's mental health and in the process hopefully showing other Men out there that it is okay to be open about your problems, it is okay to show emotions and most of all that there is NO shame in it whatsoever. YOU should never let anyone tell you that you are not valid, or that your feelings/emotions are not valid, because i am here to tell you that they are! You may face other obstacles in seeking help due to the stigma but i beg you DON'T let that deter you!
One important thing that I want every man out there to know is this, if you ask for help with your mental health or emotional well-being it by NO means makes you weak, nor does it make you any less of a man. In reality it takes more guts as well as courage to admit that you are suffering and reach out to ask for help than it does to stay quiet and say nothing. I firmly believe that we are stronger by asking for help, putting ourselves out there exposed, vulnerable and open to the negative commenters in the world. 
Now let's face it, we are all human and as humans we make mistakes, we all hurt and we all have issues to face in one aspect or another of our lives. So why fight it, when every single one of you knows just as well as I do that by asking for help, by having someone to share that burden with, that you will feel a lot better, as well as, a little less alone in the world. Not only that but you can get on the road to recovery much easier than on your own being stubborn with no knowledge about your health or disorders.
So take it from me, someone who has tried playing the macho man and held everything in for so long that it drove me to trying to kill myself, because i felt so alone and worthless even inside of my own head. So what i am asking is don't bear the hurt and many scars like i do on your own, because you don't have to. There are so many people out there that care and so very many resources. If you like you can even reach out to me as well. So with all of that being said, be brave, be kind and don't be afraid to take that first step.  YOU CAN DO IT !!!!!
             -Matthew- 
Where you can find me on Social Media